Clutch repair in manual and automatic transmissions Stuart
Clutch repair in manual transmissions
When your clutch fails in your transmission the repair costs can vary depending on the make and age of your car. The three main components with clutch repairs are the pressure plate, clutch disc and throw out bearing.
In some instances, the flywheel may need to be resurfaced and the slave or master cylinder replaced. Always maintain the transmission fluid levels avoid causing damage to the clutch. We will check for leaks, replace the main seal and input shaft before reassembling the clutch so your car doesn't have reoccurring issues with the clutch being damaged.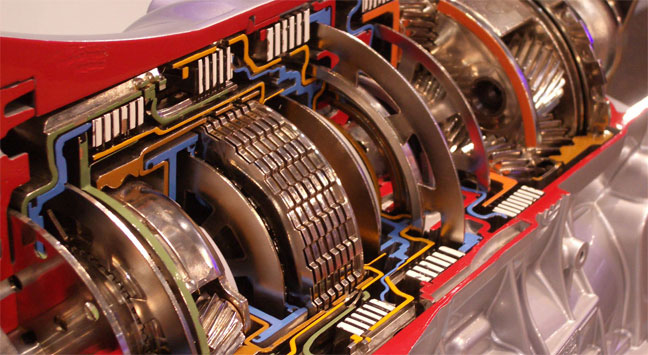 The parts are not that expensive, as the labor associated with this type of repair are the majority of the final cost. At our Transmission Repair Shop in Martin County we have fair, low cost labor rates and expert technicians which is a big reason why we have thousands of loyal customers.
Clutch repair in automatic transmissions
With automatic transmission repair you don't have a typical clutch as with manual transmissions. These clutches are plates and bands that propel power through the transmission in nanoseconds. These "disks" have a textile reinforced polymer coating that makes contact with steel plates to achieve long lasting performance. These clutch disks and plates are stacked alternating between the two inside your clutch drum with splines through them. Hydraulic pistons create the pressure to make this complex clutch system work.
When the groves in the disks are worn off or the coated material on the disks lose their protective coating then you have metal on metal which causes a slipping clutch and debris to scatter about your transmission which eventually causes more serious problems. So you should get your clutch repairs asap if you have any warning signs of slipping.